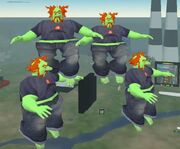 Vektor Linden is a friendly green troll who works in Linden Lab's Quality Assurance team (bug hunting/testing). He is usually spotted hanging out on IRC or in the Preview Grid, and doesn't like being quoted.
He also is one of the Lindens who maintains the SL Wiki Quality Assurance page.
"I don't like to be quoted, thank you!!" - Vektor Linden
Ad blocker interference detected!
Wikia is a free-to-use site that makes money from advertising. We have a modified experience for viewers using ad blockers

Wikia is not accessible if you've made further modifications. Remove the custom ad blocker rule(s) and the page will load as expected.