Washu Zebrastripe(aka Mother of Prim Hair) is not only one of the oldest residents of Second Life, she was the original creator of prim hair. It began with a simple ponytail to enhance the existing system hair and it blossomed into a thriving industry that boast hundreds of designers and thousands of hairstyles.
Washu's original store called Washu's Wigs and was housed in the Mirada Mall that she and her husband, Damien Fate, had created as a one stop hair experience. In March 2007, Washu's Wigs became Mirada as the mall closed to make way for Hairspray, a venture co-owned by Sinnocent Mirabeau of Sinsation. Hairspray, designed to look like a retro-futuristic shopping area, was an entire sim dedicated to hair stores.

On October 8, 2008, Washu and Damien opened Hairspray 2, to meet the needs of the growing hair industry. In mid-November 2008, Washu and Damien became the sole owners of both Hairspray sims. Hairspray 1's anchor stores are Sinsation(Sinnocent Mirabeau), Virtual Creations(Virtual Revolution), Here Comes Trouble(BabyBoo Glitterbuck & Bailey Mackenzie), and Vixen(Verikai Vargas). Hairspray 2's anchor store are Mirada(Washu Zebrastripe), House of Heart(Sheltered Heart), ZF Panache(Zyrra Falcone w/ Torrid Midnight), and Savoir Hair(organized by Laynie Link & Teagan Blackthorne).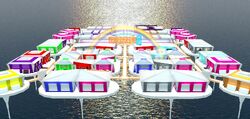 Ad blocker interference detected!
Wikia is a free-to-use site that makes money from advertising. We have a modified experience for viewers using ad blockers

Wikia is not accessible if you've made further modifications. Remove the custom ad blocker rule(s) and the page will load as expected.