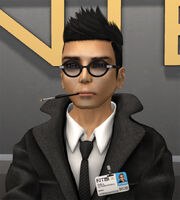 Will Szymborska joined Second Life June 10th of 2006 as a Teen Grid Resident. He is most well known for creating roleplay vehicles sold under the name Szym Motors.
Teen Grid
At an early in-world age, Will joined the [FP] Guardians, working as a peace officer. He later went on to fight for Black Talon, under the direction of Martial Logan and Richard Diller and eventually became an advisor for Talon's political and military affairs. During off-time Will built custom military vehicles and held a brief contract with 'British Military' (BM) to build armored transport's. Recognizing potential for civilian vehicles, he founded 'WillMart Automotive/ SGM' in late 2006. During this time Szymborska worked alongside TG Mall Mogul's Normac Click and Mike Denneny, securing shop stalls in all their major outlets. WillMart continued to sell consumer products on Teen Grid until June 2007 when Will Szymborska left for the Main Grid. Will's business partner ac14 Hutson helped improve the scripting of these vehicles upon transferring to MG, soon to found his own company, Astaro. Teen Grid earnings were reported to be around 500,000 L$ for WillMart/ SGM.
Will hosted an auto expo in Leviathan on March 23rd, 2007. The expo represented the Teen Grid's auto and motorcycle manufacturers at the time. It also was one of the only such events ever held of such scale on the TG considering the small size of the automotive market. In April of 2007, WillMart Stores were closed after a major sale. Soon after, WillMart and most its products were sold to Alex Harbinger, owner of the "Harbringer Products" store chain on TG. In an agreement, these products would be re-badged and sold under Harbringer's name up until 2008. The Willmart company was then re-branded as Szym Motors shortly before leaving for Main Grid.
Main Grid
After transfering, Will soon met dutch content creator Owen Lusch. Owen would later be known for his own automotive endevor, Lusch Motors (the two would create a partnership, which was later known as NTBI). In late 2009 SZYM released the Entourage, the first of many sculpted vehicles which was a major turning point against competators. With continued support from ac14 Hutson, SZYM went on to develop more emergency roleplay vehicles.
In 2012, under the NTBI conglomerate, Szymborska founded the TAHDA Holding Company which is responsible for a line of prefab buildings and other products. Szymborska is also currently involved in the development and testing of the GNTK/ SEI Computing product line by Nelson Jenkins. As of 2012, Szymborska's net earnings have been reported as over 9.7 Million L$ since the founding of SZYM Motors in 2008.
Will has organized several events including WillMart Auto Expo (2007), The UPDATE WAR (2011) and Cross Grid Rally (2007, 2008, 2011). Will was responsible for the construction of Rockport/ Edgewater which then was re-structured and re-built to become the second iteration of Mascouten until its closure in late 2010. He also worked alongside Owen Lusch as the staff builder for the City of Concord, holding a non-influencial monarchical role within the ranks of government (management). Concords eventual first major collapse and management shakeup in January 2012 caused the builders, moderators as well as Concord's founder Jefferson Twig to be expelled indefinitely. Szymborska is recognized as a social 'political' figure and commonly associated with the 'mysterious elites' that make up the NTBI Core Group as well as the intellectual fabric of modern roleplay society.
Ad blocker interference detected!
Wikia is a free-to-use site that makes money from advertising. We have a modified experience for viewers using ad blockers

Wikia is not accessible if you've made further modifications. Remove the custom ad blocker rule(s) and the page will load as expected.