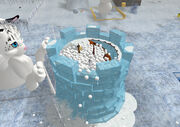 The
Winter Expo
(aka Winter Holiday Celebration) was an
event
held by
Linden Lab
in 2004 to celebrate the general winter
holidays
. There was no set holiday as the theme, but rather a general celebration of winter with each
resident
being able to celebrate in their own way. The
home
of the Winter Expo was in the
sims
Moritz
,
Voss
,
Wengen
, and
Zermatt
, with the
Linden
Ski Chalet acting as a center "hub".
Events included ice skating with Linden DJs, avatar dress-up parties, and snowball fights with Linden Lab staff (with a large and laggy crowd attending the snowball fight). One of the larger events was a Burning Life-like event taking place in Zermatt and Moritz, themed for the winter holiday with residents building ice/snow sculptures and holiday traditions.
The Winter Expo spanned from December 18th to December 31st with a New Years Eve bash.
Teen SL also had a winterfest that lasted the same amount of time, and had just about the same events. Residents set up events like "Premade Gingerbread House Contest" run by TheCoolLeader Boyer.
Links
Forums
Ad blocker interference detected!
Wikia is a free-to-use site that makes money from advertising. We have a modified experience for viewers using ad blockers

Wikia is not accessible if you've made further modifications. Remove the custom ad blocker rule(s) and the page will load as expected.